What's next from the ATI Hub?
The virtual launch of the ATI Hub on 8th December provided an opportunity for us to introduce our new initiative and share the exciting partnerships and events we have planned. Through the ATI Hub, we will bring aerospace innovators together to diversify and strengthen the UK aerospace supply chain in sustainability-enabling technologies. 
We were joined by a large and diverse audience, with organisations ranging from pre-formation to large enterprise, from academia to government, and from sectors ranging from aerospace to automotive, rail and energy. The participation and feedback from the audience throughout the event will be vital in shaping future ATI Hub offerings.  
One of the key focus areas of the ATI Hub will be to enable organisations of all shapes and sizes to collaborate on transformational innovations. The key sector innovation trends highlighted by our audience were hydrogen, digitalisation, and sustainability, but many more were raised, as displayed in this word cloud.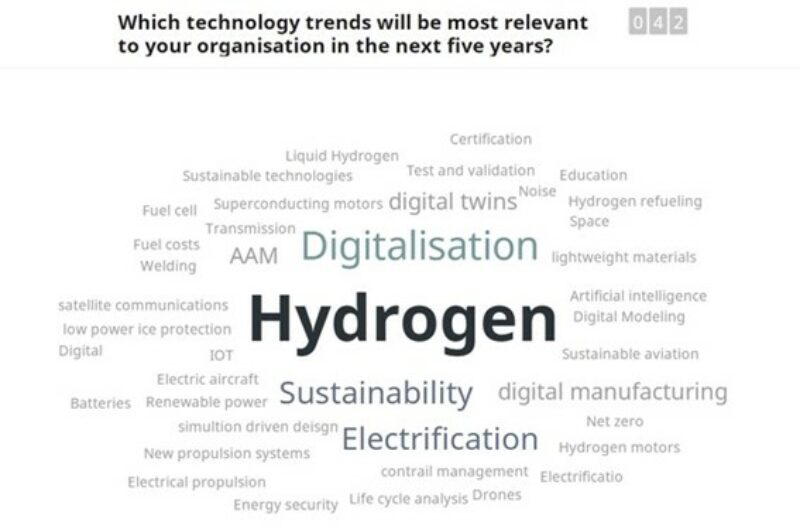 We will continue to develop ATI Hub offerings as we gain feedback and identify new opportunities to support the sector. During the event, our audience highlighted networking and the facilitation of connections across the value chain, and to investors, as some of the key areas where the ATI Hub could be most beneficial to their business.
The virtual launch also provided a sneak preview of ATI Hub offerings developed with partner organisations. The Civil Aviation Authority (CAA), PwC, and Department for International Trade (DIT), joined us for brief introductions of how they support innovators and how they will be contributing to the ATI Hub.
For companies looking to find out more about ways of working with the CAA, we will be hosting a Regulation and Certification 101 clinic on 23rd February.
PwC presented some of the key findings of our recent joint 'Funding Growth in Aerospace' report,  highlighting the funding opportunities and needs related to t transition to Net Zero aviation and the associated £4.6 trillion market opportunity. The ATI Hub will be hosting a Funding Landscape clinic with PwC in early spring to dig further into these findings and support aerospace innovators in navigating the private investment landscape.
DIT gave an overview of their role in facilitating inward investment as well as supporting UK exporters through their deep sector and market expertise. DIT will be collaborating with the ATI Hub to give aerospace innovators insights and access to support their growth aspirations.
Dates for the PwC and DIT clinic will be announced in the New Year.
The ATI Hub has been developed in close discussion with a variety of future users, and this dialogue will continue to be an integral part of the Hub and its offerings. If you have any thoughts, suggestions or are interested to partner on future events and content, please reach out to us on hub@ati.org.uk.
Visit the ATI Hub today to discover more and register for upcoming events.