Five minutes with… Steve Newbury
Academic Coordinator Steve Newbury explains how linking academics with FlyZero teams is adding an extra dimension to the project.
NH: What attracted you to join the FlyZero project?
SN: I saw it as a rare chance to get involved in an exciting and disruptive programme where a strong market pull exists to drive down aerospace emissions and deliver guilt-free flying. Being able to lean on the UK's world class academic community to bring cutting edge research and innovation into our small, dynamic team is a great opportunity. My personal interest in novel technology and business model innovation lies at the centre of this project so it is an opportunity for me to help maximise value for the UK.
I have really appreciated the dynamic and productive working culture, especially given that this team has been assembled during the pandemic. We have some extremely capable and forward-thinking colleagues – it's a pleasure to work with them.
NH: Can you explain your role as academic coordinator on FlyZero?
SN: Sure. I have been embedding academic research into the project by capturing innovation priorities from the FlyZero team, and then securing suitable academic research groups to link up with.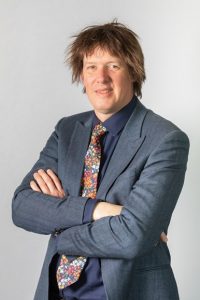 Steve Newbury, Academic Coordinator
We've had some amazing presentations given by academics sharing research with the project team. The first part of the year was about linking research groups to our project and then we moved to promoting specific tasks and procuring these with appropriate academic partners. Now the focus is shifting to ensuring our research delivers tangible impact, and future opportunities for research and partnerships are captured.
NH: What is the response to the project from academia?
SN: Overall, extremely positive. Our academic partners responded with great enthusiasm once the objectives and direction of the project were clearly outlined. Their keenness to be involved highlights just how our wider community perceive the importance of our project. They have already engaged on several challenging research questions that need to be answered, as well as feeding initial results into our programme. Just as I felt when joining the team, academics genuinely feel that FlyZero is important, needed, exciting and they want to be involved.
NH: What areas are they working on?
SN: Projects underway cross technical and commercial disciplines, with the propulsion system a major focus. Work packages include the combustion of hydrogen, new aerodynamic modelling, ammonia feasibility, modelling of the effect of contrails on CO2 and NOx, project management innovation and noise research. Positioning papers on state-of-the-art materials will also feed into the roadmaps given the importance of materials in unlocking system performance.
Having academic partners means we have extended the knowledge depth of our inhouse team helping us make robust decisions as we refine the granularity of the concepts.
NH: What areas are UK researchers strongest in?
SN: The UK has world class academic expertise in many areas, for example in materials science, aerodynamics and jet propulsion – the extensive breadth of our domestic industry is a good indicator for where our academic expertise lies. We don't have as much hydrogen expertise as some other countries – I think this is because we don't have a big space industry focused on propulsion systems. If the UK is to really get behind new pressurised and cryogenic hydrogen systems for the propulsion of road transport, rail and aerospace, we need to build new skills and facilities. The best way to do this is ground projects in the UK which will create demand for new roles and provide a commercial, education and training focus.
NH: Is it crucial to act fast?
SN: It depends what type of country we want to be. The UK has a 300-year history of leading the world in engineering innovation. I believe we should act 'smart' over speed. The wider world needs to act fast in the aviation sector to bring low carbon guilt-free flying to the masses, that is undeniable. The UK can and should play an important role, so FlyZero will, I hope, help define this emerging vision for where the UK focuses its energy and investment. With aircraft being sold today in service for 20-25 years, the faster we act the sooner will we reduce emissions in the 2040s. This is a global competitive technology race where aircraft manufacturers are already looking at the aircraft that will enter service in 2035 – they'll be looking to place development contracts soon so now is the time to get embedded in their plans.
NH: Finally, where will you fly to on your first zero-carbon emissions flight?
SN: Wouldn't that be amazing? I'd like to look down over beautiful Norway en route to the Arctic to reflect on the legacy of our team contributing to reversing the receding ice sheets, while planning future holidays on this groundbreaking aircraft.