Five minutes with… Tim Galsworthy
After 43 years in aerospace, it has been great to have a different challenge, says Tim Galsworthy, FlyZero chief engineer – airframe, who is due to retire at the end of 2021.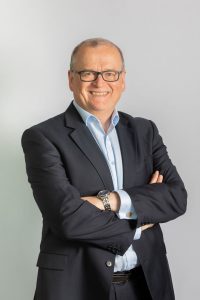 What attracted you to join FlyZero?
Having spent 20 years at Airbus working on development programmes including the A380, the A400M and the A350 XWB, I saw FlyZero as an opportunity to do something different – to work with our partners in a different way – outside of the usual organisational constraints. I feel incredibly fortunate right at the end of my career to be doing something so different with a great bunch of people.
What has your role entailed?
My role has evolved throughout the year. At the beginning, it was such a different environment for us – so far ahead on technology compared to what most of us were used to. We have regularly adapted our mode of operation, as we've morphed through the different project phases across the year. We moved from exploration and set-up, into growing the team and then ensuring broader alignment. Then we generated a mountain of data before trying to drive convergence on decision making and produce our outputs.
How has the team grown and worked together?
We all bring different and valuable experiences. You have people like me, who are used to doing things on real aircraft, and then there are those not from industry who are more used to managing the strategic messages and briefing government. That's what's fascinating – we are all learning from each other.
Overall, the team has been a huge success. It is even possible that having to work virtually has helped it. There's obviously no opportunity to walk past someone's desk and catch up on things but there's a better etiquette online than in physical meetings. Working virtually has driven us all to think about how to communicate directly too, rather than assuming people know things.
What are the challenges from an aerostructures perspective?
In the late 1970s, if you went to Heathrow, every aircraft was different. Some had two engines, three or four engines. Some were on the wing, some at the back. Designers were hunting for the optimal configuration. We found that optimum space – it is a twin-engine design – but it took us decades to get there.
I'm sure that with hydrogen we'll have the same thing – we'll have lots of different versions and once again we will learn from those, sensibly and safely. It is arrogant to suggest that we can go from zero to hero and find the right configuration in the first product we build, but I'm sure it will be safe.
When we look at some of the more radical shapes, we quickly dismiss them. But the opposite argument is that what we are trying to do is cram the hydrogen system into what we know. Apart from the blended-wing body which keeps coming up, we don't tend to look outside and start again. If we gave it to a child, what would they draw? It is an interesting question.
As we reach the final phase of the project how do you see the project's reports influencing future development?
When I discuss FlyZero with Airbus, everyone is very positive. People who have supported the design advisory group and the deep dives have all been very complimentary too. They've really shown themselves to be engaged and impressed with the level of detail we have achieved considering the time we've had and the size of our team.
Parts of our industry may have already formed their own opinions on zero-carbon technologies, but some others may be having 'Kodak moments' after years of operating with kerosene. They need to look for the new opportunities. There's lots of new technologies on the aircraft that could guide smaller companies to make the most of this next generation of aircraft.
Why is zero-carbon so important?
I think humanity needs to travel, needs to integrate and understand each other. Many economies and livelihoods around the world depend on air travel, not just directly in the industry, but also in the freight products and supporting services. So, there are many social and commercial reasons for sustainable air travel and the only way we can achieve that and still be comfortable we're doing the right thing in terms of protecting the planet is to develop zero-emissions flight.
Finally, where will you fly to on your first zero-carbon emissions flight?
It would have to be to Toulouse. I have travelled there many, many times in my Airbus career, I know the area well and I have several friends down there I'd like to visit. It is also a great base to explore from, with the coast and mountains not too far away. So, yes it would be Toulouse, but not for work!