Sustainable Aviation's roadmap highlights role of technology in Net Zero aviation.
At this week's Sustainable Skies World Summit, Sustainable Aviation published its updated Net Zero Carbon Road-Map. Adam Morton,  ATI Head of Technology – Sustainability & Strategy, reflects on key developments on the roadmap published for the first time since COVID-19 impacted the sector.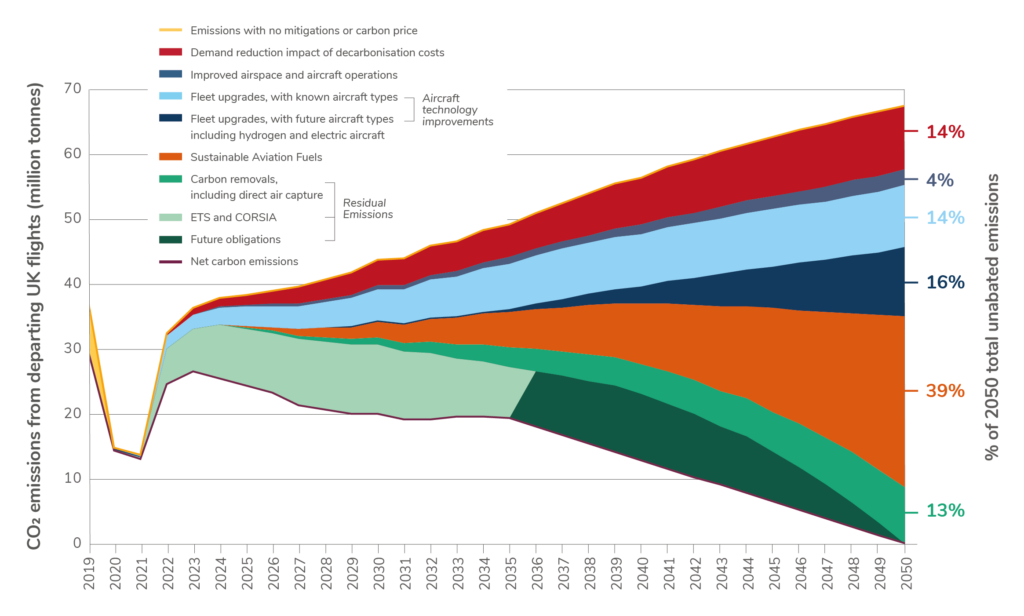 ©Sustainable Aviation 2023 (Click to enlarge)
Sustainable Aviation's (SA) latest roadmap forecasts that UK aviation can continue to grow while meeting commitments to Net Zero carbon emissions by 2050. This would be achieved through a combination of measures across fuels, operations, technology, offsets and greenhouse gas removal.
The roadmap forecasts technology improvements together with wholly new aircraft types, could address up to 30% of the sector's carbon emissions. The ATI also views these ultra-efficient and zero-carbon technologies set out in the UK technology strategy Destination Zero as crucial to addressing aviation's carbon emissions. They are equally important for helping meet demand for next generation fuels SAF and hydrogen, which are expected to be in limited supply and at increased cost compared to kerosene.
Sustainable Aviation is an alliance of the UK's airlines, airports, aerospace manufacturers, air navigation service providers and innovative fuel and carbon removal companies. Its Road-Map, first published in February 2020, now demonstrates a collaborative commitment to achieving Net Zero carbon emissions by 2050, alongside a 70% growth in passenger numbers.
Particularly notable in SA's latest roadmap, is recognition of the benefits of Zero Emissions Aircraft (ZEA) before 2050. Regional aircraft powered by liquid hydrogen are shown to appear before 2035 with the number of narrowbody aircraft increasing rapidly during the 2040s. These conclusions are broadly in line with ATI Entry-into-Service (EIS) assumptions in reports from ATI's FlyZero project published in March last year.
In contrast to 2020, lost demand due to higher cost factors in Sustainable Aviation Fuels (SAF) and carbon removal costs equates to almost 9.5MT of CO2 or 14% of that required for achieving Net Zero. This suggests costs associated with sector investment in decarbonisation are expected to be an efficient brake on emissions growth. In contrast, demand-management policies applied decades earlier could impact investment in that technology required to achieve the reductions.
Despite the expected emergence of hydrogen powered aircraft fleets, non-fossil hydrocarbons in the form of SAF, remain extremely important. These will be necessary to continue operating current aircraft types for decades to come and next generation ultra-efficient aircraft entering service around 2040. Through a combination of already announced schemes, new biogenic waste based SAF and power-to-liquid sources, SA forecasts the UK could domestically produce about two thirds of its requirements by 2050 (assuming 75% of aviation fuel use being SAF).
In addition to demand reductions, more efficient aircraft technologies, ZEAs and low carbon fuels, SA concludes further levers will still be needed. One of the biggest developments since the 2020 roadmap, is a pivot away from conventional natured based offsets towards engineered carbon removal such as Carbon Capture, Utilisation and Storage (CCUS). The continuation of Emissions Trading Scheme (ETS) and CORSIA type schemes are also still seen as essential, as are improved airspace management and optimised aircraft operations.
With each roadmap and forecast published, we consistently see how investment in ultra-efficient and zero-carbon technologies coupled with the correct economic and regulatory focus, is crucial to keeping aviation on track to Net Zero 2050.
ATI Hydrogen Capability Network announced
Also unveiled as part of the Jet Zero Council meeting at Sustainable Skies World Summit was the launch of phase 0 of a Hydrogen Capability Network led by the ATI.