The UK at the forefront of zero emission flight
Ahead of Transport Day at COP26, guest blogger Sergey Kiselev, VP Europe, ZeroAvia offers a perspective on working with the ATI on sustainable hydrogen-electric technologies.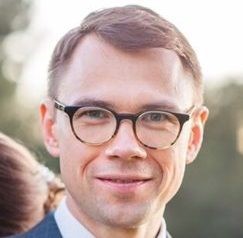 Sergey Kiselev, VP Europe, ZeroAvia
With COP26 underway, the aerospace sector is acutely aware of the immense sustainability challenge it is facing up to. It's no secret that aviation urgently needs to find solutions to its climate impacts. Representing more than 2 per cent of global carbon emissions today, the industry's share is expected to grow with demand. It is also well recognised that aviation is a particularly hard sector to reduce emissions and others will decarbonise at a faster rate. Ahead of Transport Day at COP26 tomorrow (10th November), many in the industry are coming together in Glasgow to drive international momentum towards action for our sector.
At ZeroAvia we are on an exciting journey towards tackling not just removing carbon emissions in aviation, but also pioneering true zero emission flight – eliminating other harmful climate change forcing factors. The Aerospace Technology Institute has been a critical ally in our work to date in answering the fundamental aerospace challenge of our lifetime.
Based at Cotswolds Airport in Kemble and Hollister, California in the United States, ZeroAvia is a leading innovator in zero emissions flight, focused on accelerating the transition to clean aviation. There are multiple approaches that can contribute to reducing aviation's carbon footprint, from improving the fundamental efficiency of aircraft to the use of Sustainable Aviation Fuels (SAF).
However, combustion means that even more efficient aircraft still produce emissions. SAFs offer great potential to curb some emissions using drop-in fuels, but they still require combustion – emitting harmful particulates such as nitrous oxides and soot. According to a recent study by EASA, the aviation sector's climate impact is three times bigger than the effect of its carbon dioxide emissions alone.
ZeroAvia is tackling this by developing the first practical zero emission aviation powertrain, by electrifying the aircraft – meaning that there are zero in-flight greenhouse gas emissions.
Of course, this is not as simple as it sounds. Flight requires a lot of energy to achieve take-off and maintain flight, particularly as aircraft sizes increase, but compared to the fossil fuels we currently use for aviation, the energy to weight ratio of existing batteries is not practical for commercial flight. To make batteries light and powerful enough, a fundamental scientific breakthrough would be required.
By comparison, hydrogen has a much greater energy density. When used in a fuel cell, it can generate electricity that can cleanly power an aircraft without creating carbon emissions or other harmful particulates created by combustion.
Hydrogen-electric propulsion has other advantages too, such as maintaining the fast refuelling times of fossil fuels while improving the lifetime of components, and lowering operating costs for airlines as a result. Through electrolysis powered by renewables, hydrogen can be produced without emissions. The support of the Aerospace Technology Institute has played a vital role in ZeroAvia rapidly progressing the innovation required to deliver hydrogen-electric propulsion for aviation.
In September 2020, ZeroAvia achieved the world's first flight of a commercial-scale hydrogen-electric aircraft, with our 6-seat Piper Malibu taking off from our previous base at Cranfield Airport. This was a key milestone for our first project in the UK, HyFlyer I, a partnership with the European Marine Energy Centre (EMEC) in Scotland and Intelligent Energy, which was supported through the ATI Programme.
HyFlyer set out to develop, integrate and demonstrate the core technologies required to achieve hydrogen-electric commercial-grade propulsion. It delivered a fully functional 250kW powertrain, called ZA250. In the process, we also developed the Hydrogen Airport Refuelling Ecosystem (HARE) with EMEC, which enabled us to produce hydrogen on-site using an electrolyser, allowing us to compress and store it, and then fuel our aircraft for its demonstration flights.
This year, we began work on the ATI Programme-supported HyFlyer II, which will develop and demonstrate a 600kW hydrogen-electric powertrain for 10-20 seat aircraft, for distances of up to 500NM. In the weeks following COP 26, ZeroAvia's ZA600 will be powering hydrogen-electric test flights of our newly acquired 19-seat Dornier-228 from our base at Kemble.
Crucially, ZA600 is a market-intent system, and when HyFlyer II concludes in 2023, it will show a certifiable configuration of hydrogen-electric propulsion systems. We are also scaling-up our HARE system to support this larger powertrain and the increased number of tests required for certification. The result is that from 2024, airline operators can begin to truly decarbonise their domestic routes.
We won't stop there. Our roadmap will see ZeroAvia sequentially develop powertrains that are capable of powering larger aircraft for longer distances, enabling operators to begin truly tackling more and more of their emissions. Our ultimate aim is to create a zero emission, hydrogen-electric engine for every aircraft.
In the run-up to COP26, ZeroAvia announced a series of major commercial partnerships, with the likes of Alaska Airlines, MHIJR, and Rotterdam The Hague International Airport (RTHI). With Alaska Airlines and MHIJR, those partnerships will empower further development of our hydrogen-electric propulsion technologies and integration into both new and existing aircraft. In the case of Alaska Airlines, we aim for passengers across North America to begin benefitting from zero emission 76-seat regional aviation by 2026.
With RTHI, from 2024, we aim to deliver the world's first commercial hydrogen-electric powered passenger flight route service between London and Rotterdam. Those partnerships demonstrate the huge global appetite for these solutions, and the opportunity to deliver growth for the UK's aerospace sector with a sustainable solution through exporting new technologies.
There is an enormous amount still to do to achieve our mission. But the innovation we're delivering here in the UK, with the ATI's support, will soon begin to have a global impact on aerospace's emissions for the better, while also delivering a vibrant aviation industry in the UK meaning high-skilled, green jobs and major national and regional economic benefits.