Winners announced for ATI's first Aerospace Technology & Innovation Awards
Awards given to Highlands & Islands Airports, Impression Technologies, Rolls-Royce, TISICS, WAAM3D and Ultima Forma
16 November 2023 — Six of the most exciting innovations and companies in the UK aerospace sector have been recognised in the Aerospace Technology Institute's inaugural award scheme. 
The categories in the Aerospace Technology & Innovation Awards reflect the sector's priorities – with awards given for innovation, teamwork and collaboration, and contribution to a net-zero future for aviation – as well as recognising the impact of smaller R&D projects, the most promising startup and the ATI Project of the Year. 
With the exception of the ATI Project of the Year, categories were open to any organisation involved in UK aerospace and were judged by the ATI and representatives from across the sector. The winners are: 
Innovation Award – TISICS

 

Making The Difference Award – Impression Technologies

 

Team Award – Highlands & Islands Airports

 

ATI Hub Breakthrough Award – WAAM3D

 

Shaping The Future Award – Ultima Forma

 

ATI Project of the Year – Rolls-Royce and UltraFan.

 
The winners were announced in front of 400 delegates during the two-day ATI Conference 2023, held in Birmingham on 14-15 November. 
"We were delighted with the response to our very first award scheme, with 80 entries of exceptional quality," said Sophie Lane, Chief Relationships Officer at the Aerospace Technology Institute. "The judging was not easy, and I would like to thank the judges who gave their time to review and score the entries, many of which were very detailed and well-evidenced. The scoring was tight in every category, and we were pleased to recognise some of the entries as Highly Commended. 

"The six winners show how the UK is leading the global aerospace sector in some critical areas, including advanced composite and novel materials, additive manufacturing, end-of-life recycling, an integrated transport network that focuses on sustainability to new propulsion technologies that are 25% more efficient over older generations. 

"I'd like to congratulate the winners, and I look forward to seeing how their innovations, technologies and collaborations make an impact on the global aerospace sector." 
 The details of the Winners and Highly Commended in each category are as follows: 
INNOVATION AWARD for most exciting emerging technology. This award celebrates emerging technology being developed in the UK that will support the journey to Net Zero 2050. The technology should be below TRL4, with an expectation that TRL6 will be reached before the end of 2026. 
Winner: TISICS. TISICS has developed the world's largest metal composite component for civil aircraft. Its pioneering technology addresses key gaps in advanced metal composite maturity and demonstrates a powerful solution for decarbonising aviation – achieving double the specific stiffness of 300M steel at 50% mass. When applied to the landing gear across wide-body aircraft fleets, this could reduce CO2 emissions by 9 million tonnes per year.
Highly Commended: Advanced Fibreoptic Engineering, Cyclopic, Domin, Magnomatics, Spirit AeroSystems and Wrexham University.

Eric Dalbies, Safran; Stephen Kyle-Henney, TISICS; Jacqueline Castle, ATI
MAKING THE DIFFERENCE AWARD for most impactful small R&D project. This award celebrates the impact of small research projects. The nominees will be able to demonstrate that their project has made a difference to UK aerospace, either by developing a key technology, showing agility in manufacturing or supply chain processes, or through some other innovation that helps the sector towards net zero. 
Winner: Impression Technologies. Impression Technologies is leading the concept of a "second life for aircraft seats", with sustainability built into the design process. Its project has shown that designing from the outset with circularity in mind can bring truly innovative products to market without compromise on what the aviation seat industry demands; weight, cost, style, comfort and responsible solutions. 
Highly Commended: Adaptix, Airbus, Alloyed, Construct3D, Cranfield University, Flowcopter, IONA and University of Sheffield/AMRC.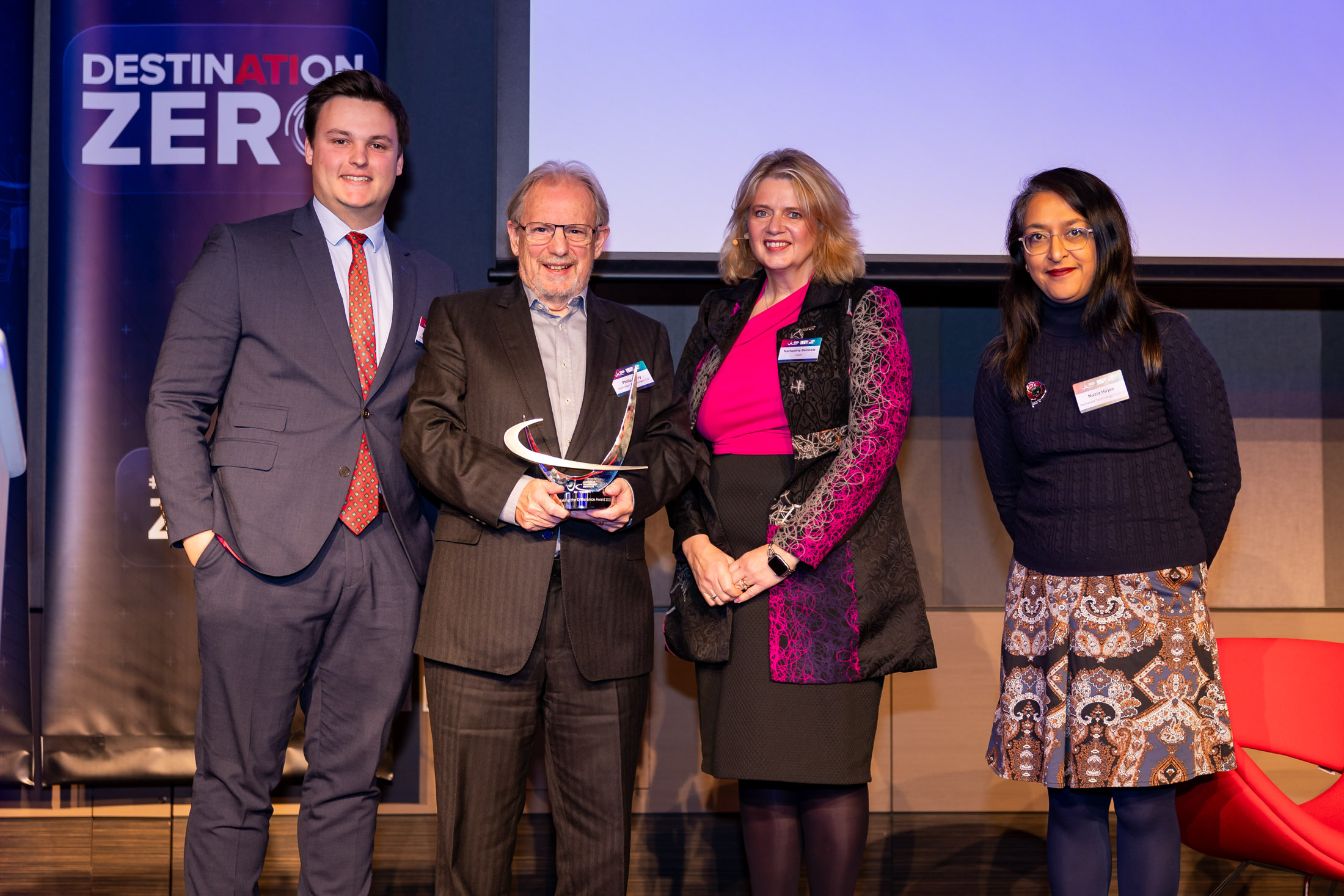 Ed Cooper, Impression Technologies; Phil Parry, Impression Technologies; Katherine Bennett CBE, High Value Manufacturing Catapult; Nazia Hirjee, ATI
TEAM AWARD for successful collaboration and partnership. This award celebrates the teams who are making the journey to net zero together. They could be working on a project, collaborating across companies, shaping decision making or driving change. They are high performing, stretching themselves and those with whom they engage, and are delivery-focused. They have strong relationships and navigate the ecosystem well.
Winner: Highlands & Islands Airports. The consortium led by Highlands & Islands Airport reflects expert representation across technology, regulation and policy, plus a range of affiliated stakeholders including local authorities and regional development agencies. There was a clear need to establish the partnership, which will improve regional connectivity to support remote and rural communities. 
Highly Commended: Airbus (for its LANDOne and Wing of Tomorrow projects), AMRC, GKN Aerospace (for its Global Technology Centre) and Reaction Engines.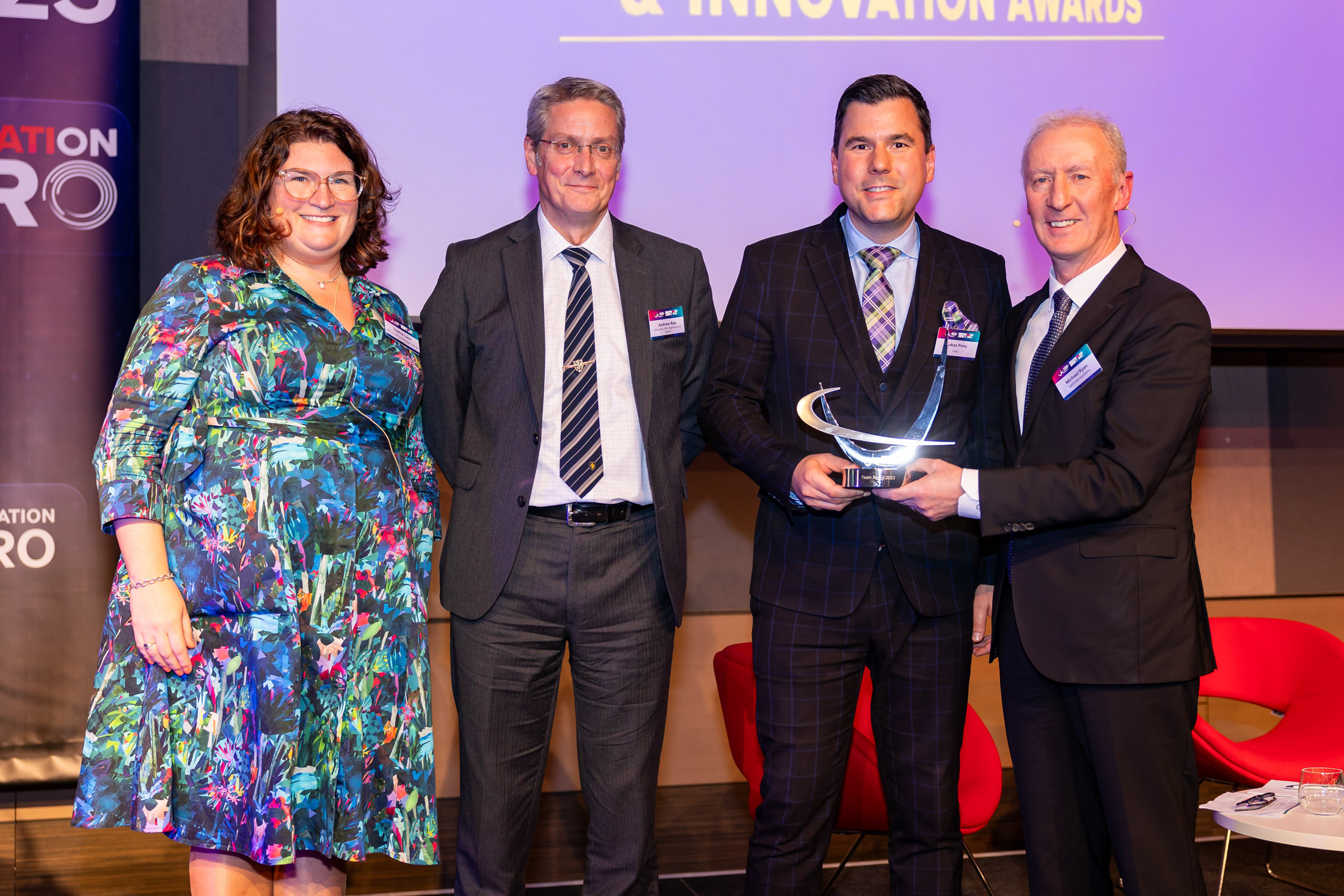 Sophie Lane, ATI; Andrew Rae, University of the Highlands and Islands; Lukas Princ, Highlands and Islands Airports; Sir Michael Ryan, Aerospace Growth Partnership
ATI HUB BREAKTHROUGH AWARD for most promising startup. This award celebrates UK-based startups that have been active in the aerospace sector since 2020. Their focus should be on supporting the journey to Net Zero 2050 for commercial flight.
Winner: WAAM3D. WAAM3D is a growth stage startup with the potential to transform the adoption of additive manufacturing in aerospace. Their innovation in large-scale metal additive manufacturing is an end-to-end solution covering computer aided manufacturing, machine and process control, and post-build data analytics.
Highly Commended: BeyondMath, Flux Aviation, Ultima Forma.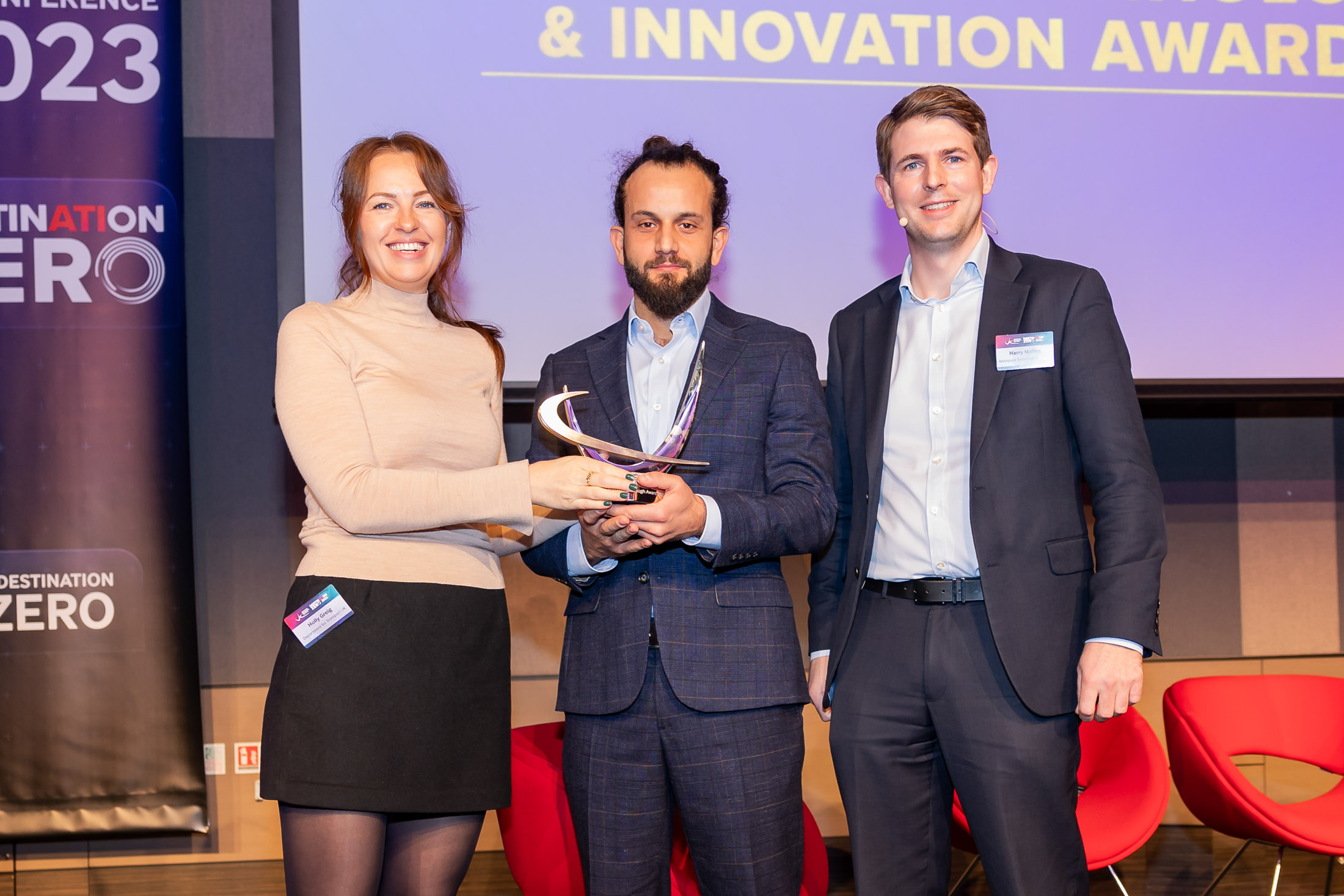 Holly Greig, DfT; Filomeno Martina, WAAM3D; Harry Malins, ATI
SHAPING THE FUTURE AWARD for advancing zero-carbon emission flight. This award celebrates zero-carbon emissions technology being developed in the UK for future commercial aircraft types. The technology should be at TRL6 or below. The technology can be relevant to any zero-carbon fuelled aircraft and should represent a step change in UK capability in this area. 
Winner: Ultima Forma. Ultima Forma is developing technology that will be essential for the future adoption of hydrogen as an aircraft fuel. Their electroforming processes can manufacture continuous metal structures without joins, allowing the containment of hydrogen in gaseous and liquid forms. It is a manufacturing process with a low-carbon footprint, and enables the engineering of innovative lightweight hydrogen storage and distribution solutions.
Highly Commended: Evolito, National Composites Centre, Wrexham University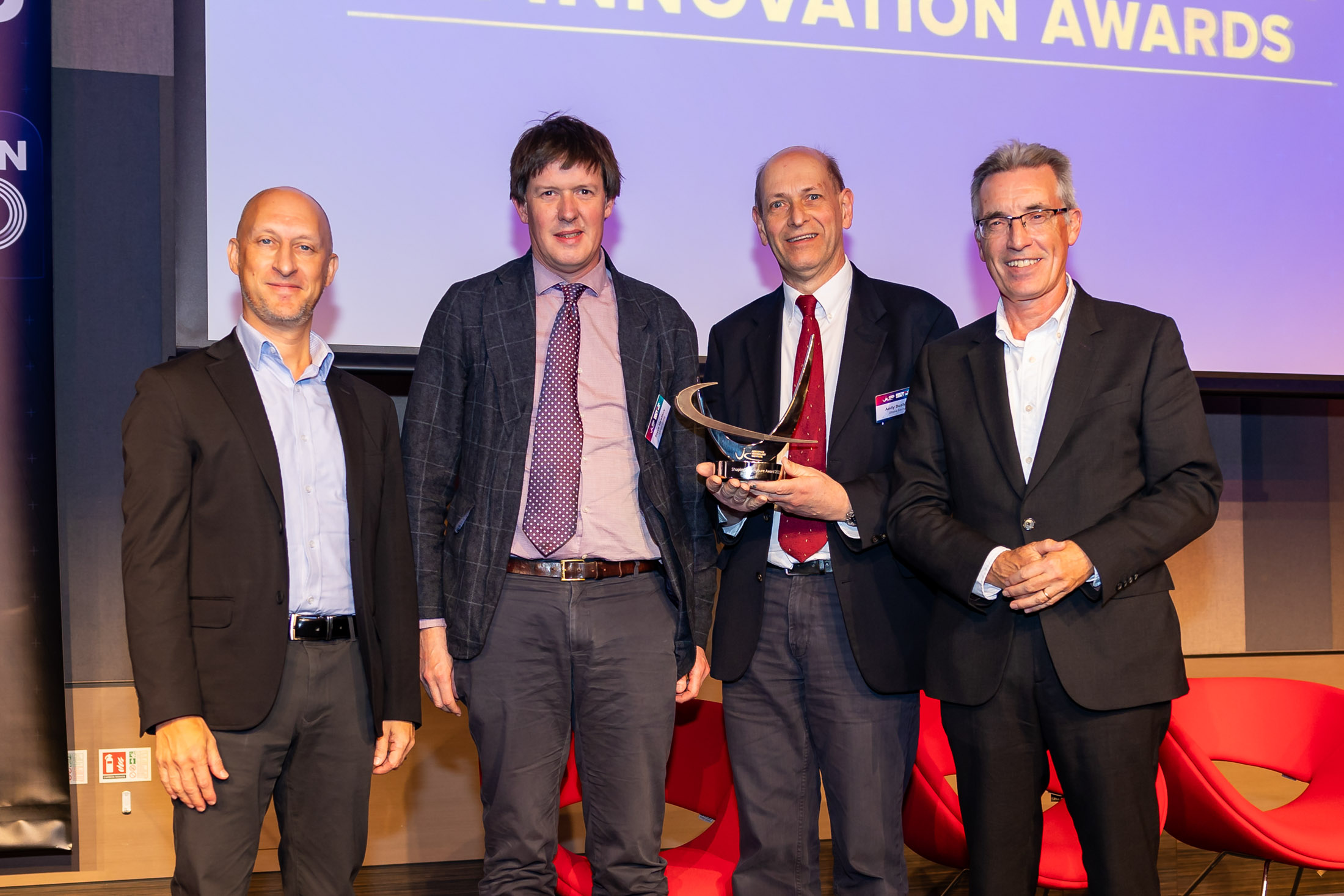 Gary Elliott, ATI; Steve Newbury, Ultima Forma; Andy Bushby, Ultima Forma; Paul Everitt, ATI
ATI PROJECT OF THE YEAR. This award celebrates a project funded through the ATI Programme that has concluded or reached a significant milestone in the last year.
Winner: Rolls-Royce's UltraFan. The first successful tests of the Rolls-Royce UltraFan engine was a significant moment. It is an innovation that delivers a step change in what is possible – an engine that is 25 per cent more fuel efficient than the first generation of Trent engines. UltraFan has been a decade in the making; its success is absolutely critical for the future of the aircraft engine industry in the UK and gives the UK a significant advantage in the global market.
Highly Commended: Archangel Imaging, Q5D, SpiritAeroSystems, University of Nottingham, Whittle Lab at University of Cambridge.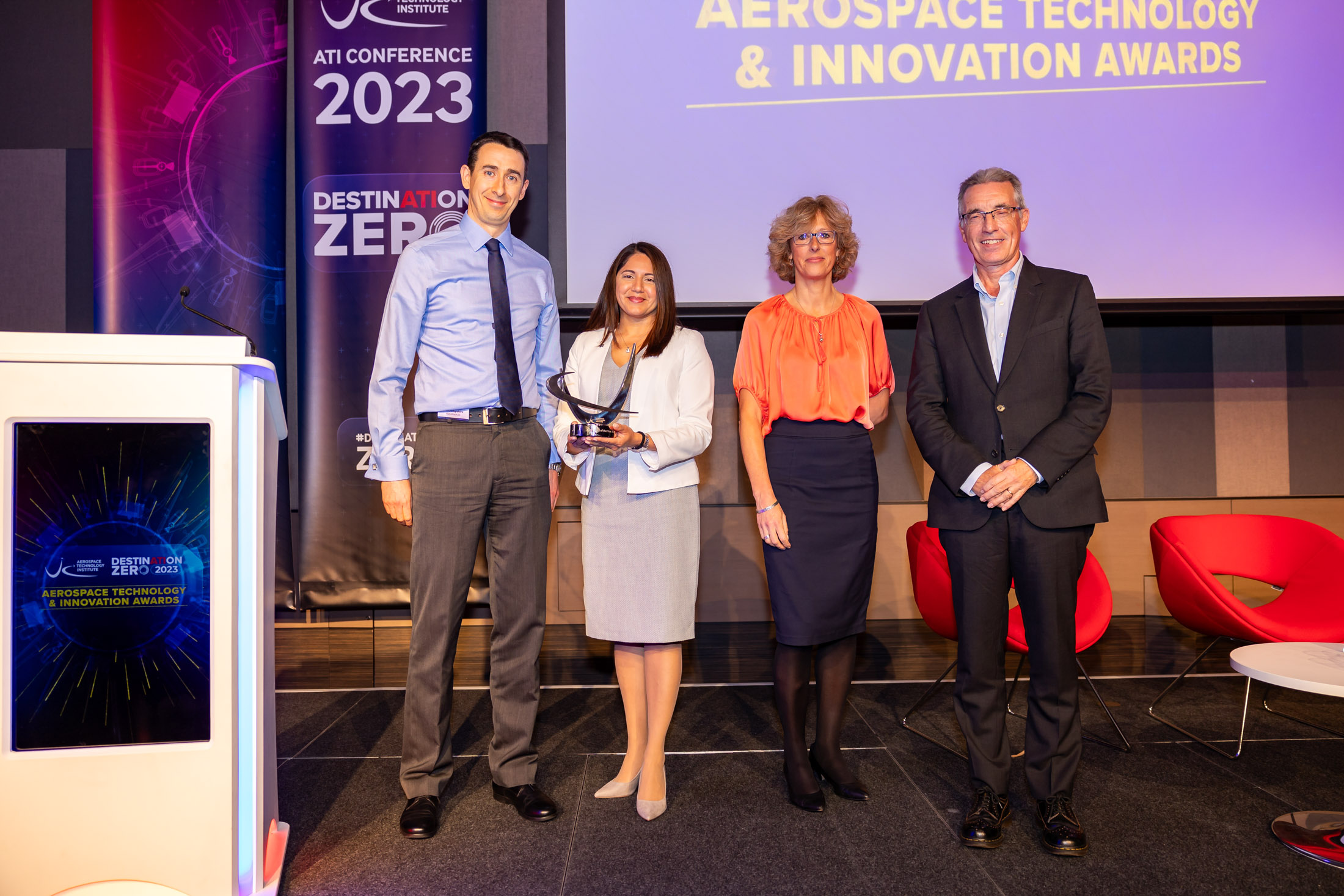 Ian Derbyshire, Rolls-Royce; Charmaine Cordo, Rolls-Royce; Julia Sutcliffe, DBT; Paul Everitt, ATI